NATIONAL CENTER FOR CONTEMPORARY ARTS (NCCA)
Moscow, Russia 2013
中文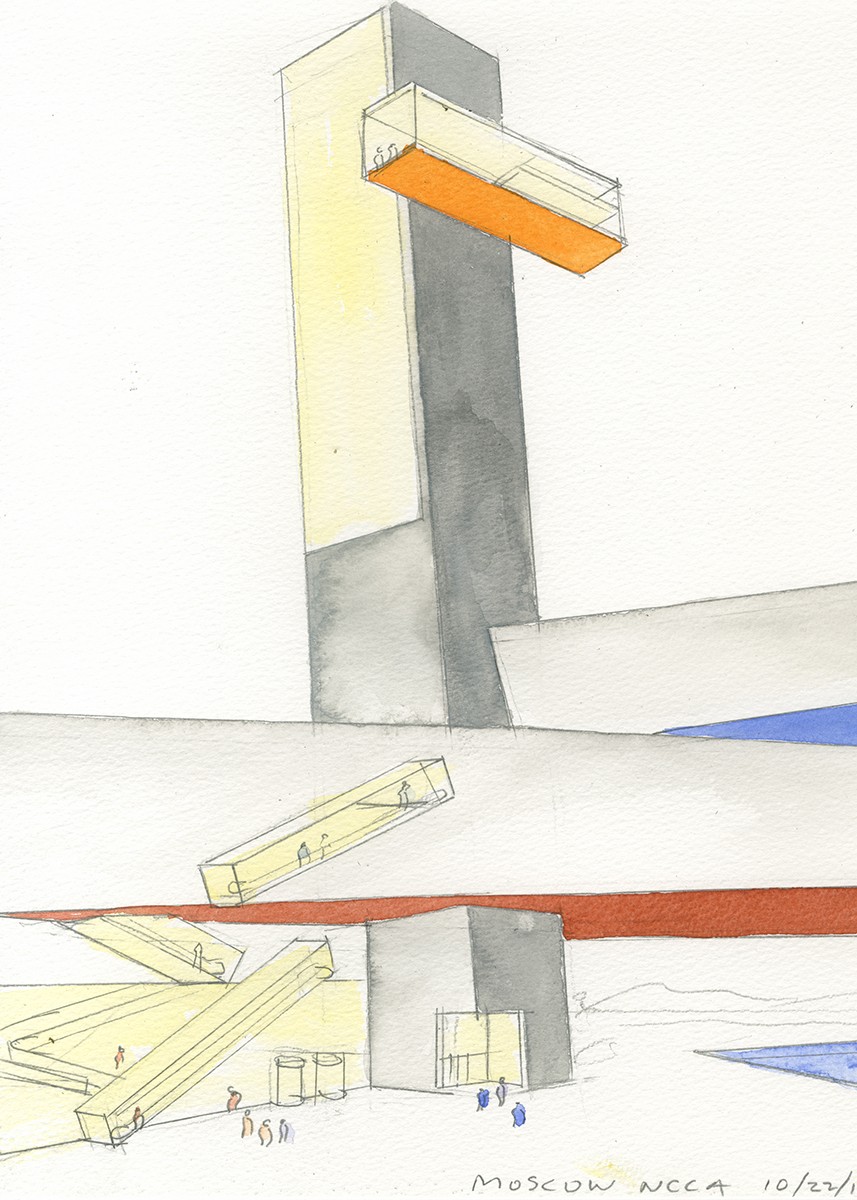 DESCRIPTION +
---
PROGRAM: museum facilities, artists workshops and residences, art cafe, theater, cinema, conference halls, educational spaces, administration and museum operations, sculpture terraces and gardens.
STATUS: competition
---
The design for the NCCA holds the exhibition of art as its first priority. The orthogonal galleries, in fine proportions with natural light, are organized horizontally. These are open ended spaces allowing for multiple gallery routes.

The design frees the ground plane for public space. A feeling of levitating volume is achieved by a cable stay structure. The project has an intentional ambiguity of scale, allowing the large levitating elements to define an iconic presence without ignoring human scale in the materials and details.

The unique programmatic aspect of the NCCA – to include artists' studios and residences – is expressed by placing artists at the top of the composition. A "flying beam" contains the art club café, which is a new urban landmark in its own right. The nearby artists' studios have north light as well as outdoor work spaces on the roof below.

This new museum is an "ecological place." Advanced solar PV technology will be employed in the south-facing facades to support 100% of the electrical needs of the museum. A system of geothermal wells will supply all cooling and heating needs to the super-insulated construction. Due to the thin building sections, all spaces receive natural light.
CREDITS+
architect

– Steven Holl Architects
Steven Holl ( design architects, principal )
Roberto Bannura ( director in charge, Beijing )
Noah Yaffe ( partner in charge, New York )
Dimitra Tsachrelia ( project architect )
Bell Ying Yi Cai, Zach Cohen, Ivan Grekov, Magdalena Naydekova, Yun Shi, Dominik Sigg (project team)

structural engineer

– Guy Nordenson & Associates

climate engineers